Durbin, Schneider call for action against white supremacists
New Zealand mosque shootings prompt bicameral congressional bills
By Ted Cox
Two prominent members of the Illinois congressional delegation say it's time to crack down on white supremacists.
Sen. Dick Durbin and Rep. Brad Schneider introduced bills in both houses of Congress Wednesday calling for a government crackdown on white-supremacist terror groups.
The two Democrats cited the recent mosque mass shootings in Christchurch, New Zealand, in which 50 people were murdered. But they also drew on a May 2017 intelligence bulletin put out by the FBI and the U.S. Department of Homeland Security that they said found that white-supremacist extremism "poses a persistent threat of lethal violence." They charged it showed that in the United States "white supremacists were responsible for 49 homicides in 26 attacks from 2000 to 2016 — more than any other domestic extremist movement."
"Violent white supremacists and other far-right extremists are the most significant domestic terrorism threat facing the United States today," Durbin said. "For too long, we have failed to take action to combat the deadly threat in our own backyard. While federal law-enforcement agencies recognize that white-supremacist extremism is on the rise, our legislation would require them to take the concrete steps needed to address it."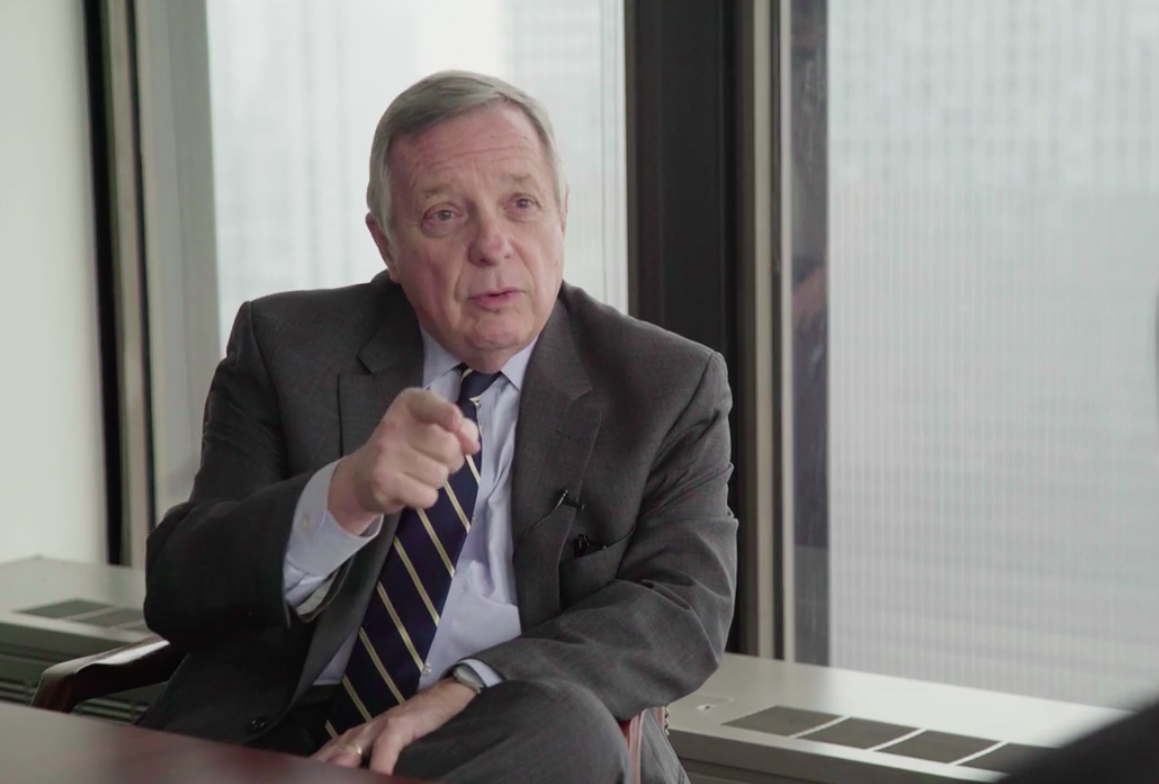 "Violent white supremacists and other far-right extremists are the most significant domestic terrorism threat facing the United States today."
Sen. Dick Durbin (One Illinois/Zachary Sigelko)
According to a release put out by Durbin's office, if enacted, the legislation would call on the FBI, the Department of Homeland Security, and the Justice Department to issue joint annual reports to House and Senate committees that "assess the domestic terrorism threat posed by white supremacists; analyze domestic terrorism incidents that occurred in the previous year; and provide transparency through a public quantitative analysis of domestic-terrorism-related assessments, investigations, incidents, arrests, indictments, prosecutions, convictions, and weapons recoveries."
The government agencies "would be required to focus their limited resources on the most significant domestic terrorism threats, as determined by the number of domestic-terrorism-related incidents outlined in the joint report."
"It's time we update our laws to reflect the growing threat of domestic terror," said Schneider, of Deerfield. "In the last decade, white supremacists and other violent far-right extremists have been responsible for more deaths than any other category."
President Trump has come under criticism for appeasing and appealing to white supremacists, as when he said there were "some very fine people on both sides" of a neo-Nazi rally held two years ago in Charlottesville, Va. A year later, however, on the anniversary, he denounced "all types of racism."
Illinois is not immune to white-supremacist groups. The Southern Poverty Law Center has produced what it calls a "Hate Map" tracking more than 1,000 hate groups across the country, including dozens in Illinois — both white nationalists and black nationalists, as well as others.
The bill proposed in Congress would also formally establish the Domestic Terrorism Executive Committee, an interagency task force to monitor such groups originally created by the Department of Justice after the Oklahoma City bombing in 1995 in which 168 people died.
"I am proud to partner with Sen. Durbin on legislation strengthening coordination on monitoring these groups and preventing acts of violence," Schneider said. "From a Sikh temple in Wisconsin to a church in South Carolina to a synagogue in Pennsylvania, we have too many tragic examples of the dangers of domestic terrorism, and the recent tragedy in New Zealand shows the vile ideology of hate is growing beyond our borders as well." He called the legislation "a necessary first step to help our law enforcement contain the threat."
In the Senate, the bill is co-sponsored by Illinois's junior Sen. Tammy Duckworth, along with fellow Democrats Richard Blumenthal of Connecticut, Cory Booker of New Jersey, Ben Cardin of Maryland, Chris Coons of New Jersey, Kamala Harris of California, Tim Kaine of Virginia, Amy Klobuchar of Minnesota, Ed Markey of Massachusetts, Sheldon Whitehouse of Rhode Island, and Brian Schatz of Hawaii, as well as Independent Bernie Sanders of Vermont.