Treasurer Frerichs pushes to free banks to handle legal cannabis cash
Says $136M a year is being 'shuffled from place to place in duffle bags'
By Ted Cox
CHICAGO — The state treasurer pushed Monday for new regulations allowing banks to handle cash from the legal cannabis industry.
"We need to make it legal for the legal cannabis industry to use banks and credit unions," said Treasurer Michael Frerichs at a news conference in the Thompson Center in downtown Chicago.
Frerichs pointed out that "33 states have some form of legal cannabis," medical or recreational or both, yet they're not permitted to use credit cards or banks with federal charters due to the Trump administration's strict enforcement of laws against banking revenue from what is still considered an illegal substance nationally.
"This defies logic," Frerichs said. "We have an industry that handles money hiding in the shadows because banking rules built decades ago haven't kept up with changes of behavior and law.
"We have a cash industry with more than $136 million in sales in 2018 that is now ripe for theft, fraud, and tax evasion," he added.
According to Frerichs and state Rep. Kelly Cassidy of Chicago, one state bank was handling 85 percent of the business under the Illinois medical-marijuana law. "As the Trump administration ramped up threats," Cassidy said, "that bank got nervous about potential backlash" and backed out of the business.
As a result, Frerichs said, cash in the state's medical-marijuana program is being "shuffled from place to place in duffle bags in the front seat of cars or in the trunk of cars."
DuPage County State's Attorney Bob Berlin, president of the Illinois State's Attorneys Association, said that group backs legislation that would enable banks to handle funds from legal cannabis. "When we're dealing with that much cash, the opportunity for criminal activity increases," he said. While Berlin said he wasn't aware of any pot heists yet, he added, "Certainly the great potential is there."
Frerichs advocated a three-prong attack, including updating state laws, lobbying for changes in federal law, and using his office to "incentivize banks and credit unions to serve the legal cannabis industry."
Cassidy and state Sen. Toi Hutchinson of Olympia Fields are sponsoring bills in both houses of the General Assembly that would prevent state regulators from cracking down on banks that accept money made from legal cannabis.
"This is something we just have to do," Hutchinson said.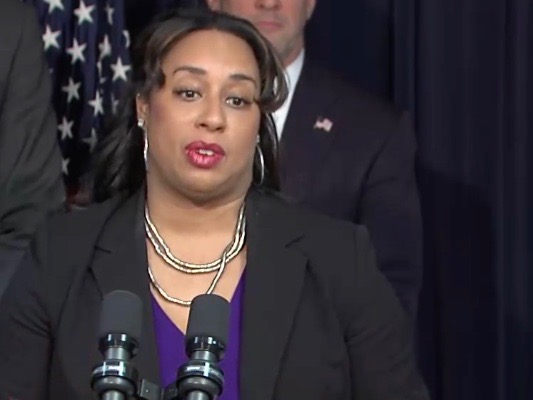 "This is something we just have to do."
State Sen. Toi Hutchinson (BlueRoomStream)
All emphasized this had nothing to do with the ongoing debate on whether to legalize recreational marijuana in Illinois.
"This is about the industry we currently have operating today," Hutchinson said. "This is an industry that wants to be regulated."
"As this industry grows, the problem grows," added Cassidy, who has also sponsored legalization legislation in the General Assembly.
Frerichs and Berlin both said they backed the banking bills sponsored by Cassidy and Hutchinson. Frerichs said he was joining in a bipartisan effort with other state treasurers to urge federal regulators to abstain from prosecuting banks handling pot cash, and that they'd lobby Congress to "bring outdated federal banking laws into the present."
Frerichs has been fighting the battle for two years, since the Trump administration threatened "greater enforcement" of federal laws against banking cannabis proceeds.
Independent companies such as CannaTrac have tried to fill the gap with its CannaCard, specifically aimed at taking cash out of the cannabis industry.
Frerichs said Monday, "This is not a radical idea. This is working with disparate groups to address a problem before it becomes a crisis."
Urging "common-sense changes to banking rules," he added, "If we do not make these changes, if we do not bring our rules and regulations in line with our laws and our actions, we invite crime, we invite theft, we invite tax evasion."